Discover more from The Food Section
Covering food and drink across the American South as though it mattered as much as crime and politics (because it does.)
Over 8,000 subscribers
How many Dollar General workers does it take to whip up a strike at Store #10635 on Broad River Road in Irmo, South Carolina?
Two.
Two, because Miranda Chavez and TyBrianna Shaw constitute the entirety of the location's fulltime, non-managerial staff.
Two, because when a store is so drastically understaffed that there's only one worker in the building for an eight-hour shift, she doesn't get a lunch break.
Two, because when a worker is forced to close up alone at 11 p.m., she has to walk by herself to her car in a dark parking lot, where even the Dollar General sign no longer glows.
Two, because it doesn't matter how many people are on the payroll if workers aren't provided with masks and gloves when unloading boxes dripping with corrosive chemicals.
Those were among the complaints lodged against the Tennessee-based chain by Chavez and Shaw, who on January 17 became the first low-wage workers to strike under the auspices of the newly formed Union of Southern Service Workers. The group, which was founded in November, is organizing across industry lines in North Carolina, South Carolina, Georgia, and Alabama to improve service jobs and empower the people who hold them.
"I don't want to jump from job to job," Shaw, 23, said when asked why she didn't instead leave Dollar General for one of the many advertised openings at other retail stores, restaurants, hotels, or healthcare centers. "We want better working conditions. We don't want to feel like a Rolltainer is going to fall on our head and squash us."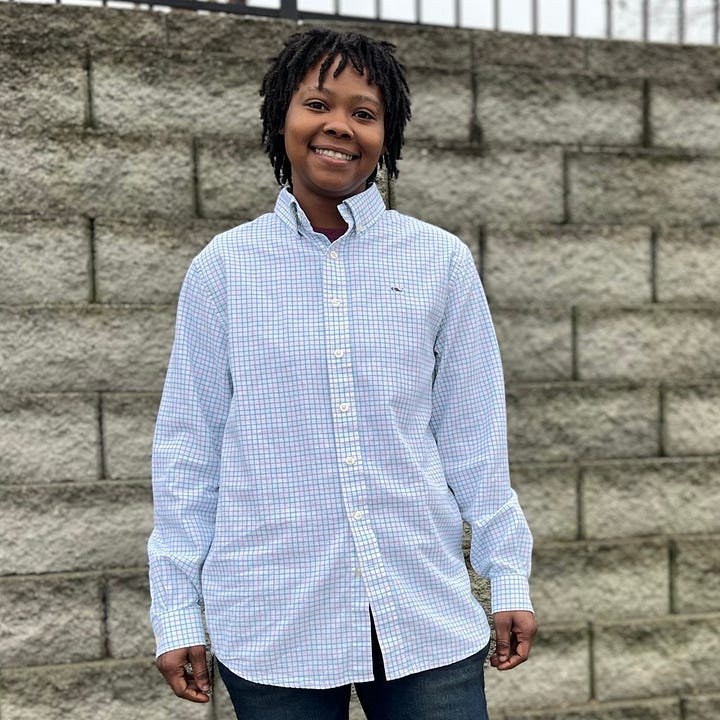 Rolltainers, or wheeled shelving carts, are specific to Dollar General, where the same employee tasked with manning the cash register and making sure shoplifters don't sneak out the front door is supposed to unpack jumbled containers of bargain merchandise. "You'll have tuna fish and tampons on the same Rolltainer," Chavez, 42, said.
Dollar General did not respond to The Food Section's message seeking comment on the allegations.
But many of the striking workers' concerns transcend business categories. In the list of demands they presented, Chavez and Shaw called for consistent scheduling, zero tolerance of wage theft, fair pay, and "an end to disrespect from management."
Because those stipulations resonate so deeply with servers and line cooks, some labor historians who monitor unionization attempts suspect what's unfolding in discount grocery aisles could eventually lead to change in the Southern hospitality sector. Taking into account discrete protests for workers' rights at Starbucks in Atlanta, Freddy's Frozen Custard and Steakburgers in Durham, and Twin Peaks in Brentwood, Tennessee, they calculate the chances are good for the Union of Southern Service Workers to influence regional restaurant culture in the years ahead.
In other words, this month's strike at Dollar General provides a sense of what restaurant strikes could look like, and what they might—and might not—yield.       
The Union of Southern Service Workers (USSW), an outgrowth of the longstanding Fight for $15 movement and affiliate of the Service Employees International Union, is challenging two commonly held beliefs about organized labor and how it's practiced.
First, the group's 150 cofounders are focusing their efforts on the nation's most notoriously anti-union region. Every Southern state is classified as "right-to-work," which means workers can't be required to join a union. Such laws severely restrict organizing attempts since they limit union funding and bargaining power.
Union membership is below the national average of 10.1 percent throughout the South, with South Carolina recording the lowest rate in the country: Just 1.7 percent of its workers belong to a union. 
By comparison, 20 percent of workers in New York State are unionized.
Historically, union growth in the South has been inhibited by its agricultural leanings and racism, both of which kept the region out of the labor movement which took hold in the North close to a century ago. Since then, Southern political leaders have flaunted their pro-business stance, courting big corporations with the promise of acquiescent workers.
But a Gallup poll conducted before the pandemic showed 60 percent of Southerners approve of labor unions, suggesting their prospects aren't as dismal as caricatures of the region indicate.
"I just didn't know about unions," said Chavez, who was visited by one of USSW's paid organizers on the staffer's first day with the union. "Up north, unions are plentiful, but I'd never been approached, so I didn't know."
Both Chavez and Shaw said their friends and relatives are uniformly proud of them for striking.
Second, the strike was consistent with the way in which USSW deviates from most people's understanding of union activities. Workers familiar with shipbuilding or auto assembly are likely to associate unions with company-wide votes and formalized collective bargaining overseen by the National Labor Relations Board (NLRB).
While USSW isn't opposed to large-scale organizing, its members are skeptical of government-supervised tactics such as NLRB-run elections, which they say favor business interests. They prefer deploying grassroots action at the store level, along with filing official complaints with federal agencies when appropriate.
Chavez said she wouldn't have known her legal rights if the USSW organizer hadn't briefed her.
"I've always been the type of person that I don't lie down and take it," she said. "But workers don't realize what companies can and can't do. She educated me and supported me."
Still, the big idea behind USSW is workers have each other's backs. When Chavez and Shaw were getting ready to present their list of demands to their manager, fellow union members holding bullhorns and placards congregated outside in the rain. Among them were former employees of a Dollar General in Holly Hill, South Carolina, which the company closed after a July 2022 strike.
Later, Chavez said the dozen supporters out front helped make it "not so scary" to confront her boss. Even so, she was shaking as she and Shaw, both wearing black USSW hoodies, marched to the front of the store.
Together, they strode away from the fire door at the back of the building, usually kept locked during work hours. They walked through aisles typically crowded with Rolltainers and totes, sometimes piled so high that the five-foot tall Shaw couldn't see over them.
"We want fair pay that we can build our lives on," Chavez read from a printed document.
Chavez earns $11 an hour even though she says she was repeatedly promised $11.75 when she took the job. At 40 hours a week, that works out to $1,906 a month in a city where the median gross rent is $1,303.
Continuing in her stripped-down Prosperity, South Carolina accent, Chavez said, "Hire more staff so there's never only one person working at a time, especially during closing shifts." When she finished reading off her list, the two left.
Customers didn't know what to make of Chavez's short speech, but the manager kept her head down and wiped her hands on a paper towel as Chavez spoke. "It was great," Shaw said. "She was speechless."
As Chavez saw it, "She kind of ran from us, and we weren't being aggressive. So, you can see what I'm dealing with it."
After announcing the two-day strike, Chavez and Shaw went to the USSW office for pizza. "We celebrated the fact that we didn't chicken out," Chavez said.
Back at the store, the manager called in workers from other locations, who tried to sort through boxes of inventory that hadn't been shelved yet. According to Chavez, the store takes in about 1500 pieces of merchandise a day.
"In our jurisdiction, we have either shut or threatened to shut down almost any business that has the name 'Dollar' in it," Irmo Fire District fire marshal Brian Haley told The Food Section. "The merchandise is shipped before the store can sell it or stock it. The stores do not have enough employees."
One of USSW's slogans is "Don't Quit: Organize," so when Chavez and Shaw's two-day strike was up, they clocked back in as scheduled. Dollar General hasn't made any of their requested changes, but Shaw reports nobody at the store has been scheduled to work alone since they walked out. And both workers are gratified by the number of community members coming into the store to say they support the fight.
Even if Dollar General doesn't immediately meet their demands, Chavez and Shaw have no plans to look for jobs elsewhere. But Chavez can imagine one day giving up her Dollar General position to work for the USSW in a paid capacity.
"I'm excited to get people involved and know they don't have to take what these big companies put on them," she said. "If more people would do what Ty and I did yesterday, they would have no chance. They wouldn't have employees to pull from other stores."
With that in mind, Chavez and Shaw have begun paying visits to Dollar General stores around Columbia. They're telling workers there just what they did—and how other workers can do it too.
---
The Food Section's independent food journalism from and about the American South is made possible by its paying subscribers.