Discover more from The Food Section
Covering food and drink across the American South as though it mattered as much as crime and politics (because it does.)
Over 8,000 subscribers
Turning on the taps
Your mid-week dose of Southern food news
College students have complained about cafeteria food since the dawn of on-campus dining, but scholastic foodservice experts say tolerance for institutional meals has plummeted among teens who shifted to remote learning during the pandemic.
"On their phones, they had access to literally everything for lunch," says Michael Dahl, Sodexo's dining services district manager at West Virginia University.
To ease the transition for first-year students who have limited experience with set menus, West Virginia University this semester is opening a dining station that approximates an independent restaurant. Adobo Cantina, helmed by chef Monica Luna Gaarz, features recipes developed for the location by New Orleans chef Aarón Sánchez.
As West Virginia University students are likely to know, Sánchez has starred in several cooking shows, including Chopped and MasterChef.
"Our students have access to Qdoba and Taco Bell and Chipotle," Dahl says of students consistently naming Mexican food as one of their favorite cuisines. "But we thought, 'Anybody can do that. Let's find out who does it for real.' And why not go with an award-winning chef who has passion and energy?"
According to Dahl, celebrity chefs are playing a more prominent role in campus dining "as we flip the donor base into a new generation." For example, William Dissen, who runs restaurants in Charlotte and Asheville, has opened Billy D's Fried Chicken outlets at Elon University and Wake Forest University.
Unlike those restaurants, though, Adobo Cantina is part of the basic residential dining plan, meaning Mountaineers aren't charged per item when ordering chile Colorado enchiladas, fried plantains, and roasted Brussels sprouts with jalapeno vinaigrette.
"Just because it's all-you-care-to-eat, it doesn't have to have a stigma," Dahl says.
Adding a big-name chef to the dining hall roster is just one way that Sodexho is trying to better meet the needs of students acclimating to in-person learning. Following a series of stories in the West Virginia University student newspaper calling out the company for repeated health code violations documented by the Monongalia County Health Department, Sodexho recently unveiled a text service for customer feedback.
As the student newspaper reported, "The idea for this service came from a realization that students are more likely to feel comfortable sharing comments online than in person."
Running a neighborhood brewery means never listing a beer that will make patrons say, "What's that?"
"We want to cater to what people want to see, not what we want," says Josh Edwards, director of operations at Solar Brewing Company, the first brewery in Oak Island, North Carolina. "We want to have a good lineup that people are familiar with."
Right now, the taps at Solar are tuned to an IPA, porter, and brown ale, which seems to suit the community fine.
"We've opened to online critical acclaim," Edwards says. "Everyone has been wondering when we were going to open: We're starved here for places to go."
If Edwards had his druthers, Solar would have risen two years ago, but its construction was subject to numerous permitting and zoning delays. "We are the first brewery on the island, and there was a big learning curve for the town," he says.
Finally, on the topic of new restaurants: Eater's city sites in late 2022 polled food writers and other professional diners in a host of year-end categories, including most memorable meals and lamented losses. It's an annual tradition that always amounts to a series of good reads.
You can check out my answers to the Eater Carolinas survey here, including my selection of The Hut as a standout opening.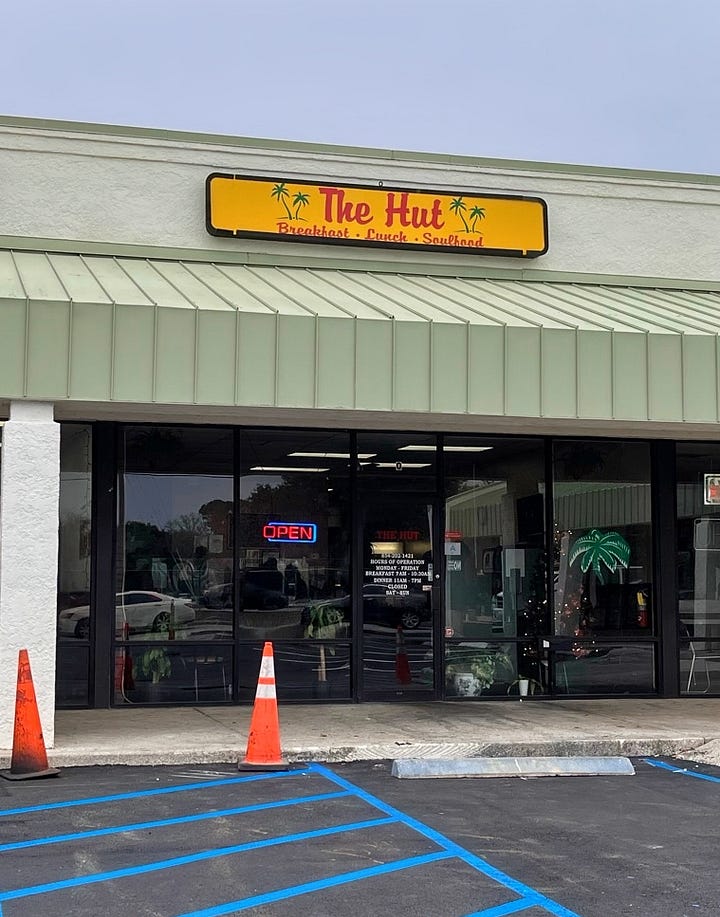 As I wrote in response to "What newcomer on the scene excited you this year?",
Who isn't going to say Vern's (41 Bogard Street, Charleston)? Count me in that camp, but I also want to mention The Hut on McMillian Avenue. With bagelries and pork roll specialists opening all around, it's nice to know that Lowcountry home cooking hasn't vanished entirely from the new restaurant scene. Try the smothered turkey wings and limas.
---