You're invited to The Food Section's party!
Our annual subscribers' reception returns on March 4
Would you like to try a few of the obscure Southern fruit beverages featured in Monday's newsletter? Are you anxious to toss back a regional cola with purported health benefits, such as the celery drink described in Wednesday's newsletter?  
Or do you wish you knew what the above paragraph is all about? Now's the time to subscribe and find out!
Plus, if you subscribe to The Food Section today, you're automatically on the guest list for the newsletter's annual subscribers' reception on March 4, where the beverage choices will include all of the soda and beer I didn't drink from the 12-packs I bought for my liquid salute to Southern area codes.
Otherwise, the party will be much the same as last year, featuring seafood artfully arranged by Brittney Simmons, logo cupcakes from Daddy's Girls Bakery, and stimulating conversations with other supporters of independent food journalism. For those who missed the 2022 festivities, the images below will give you some idea of the fun in store.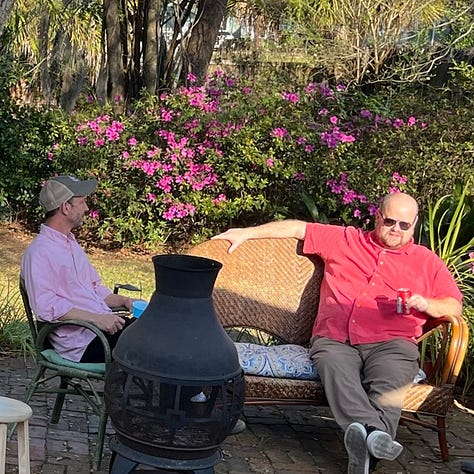 Look good? Here's the lowdown.
WHO: Paid subscribers
WHAT: Good times  
WHERE: The Food Section HQ, North Charleston, South Carolina
WHEN: Saturday, March 4, 2 p.m.-5 p.m.
WHY: Since we gathered in March 2022, The Food Section has won a slew of honors, including the Local Independent Online News' Best New Business prize and the International Association of Culinary Professionals' Trailblazer award, all of which were made possible by paying subscribers' financial backing. If you're in town for Charleston Wine + Food, or just feel like spending a spring weekend in the Lowcountry, I'd love to thank you in person.
HOW: Click the button below. Once you're registered, you'll receive a confirmation email with additional details about the event.
See you soon! And don't forget to spread the word: That Sun Drop won't drink itself.